Packaging pictures to help your business grow online
Social sharing is caring!
We absolutely love seeing your packaging pictures!
You spend so much time, love and attention selecting the packaging to perfectly display or transport your products and making them your own. We all know how important it is to make a great first impression on your customers and how bespoke printing and personal stamping can all have a wonderful impact. Why not get more for your money and use the packaging as part of your online marketing strategy, to help push and promote your products and your brand even further.
If you are not doing so already, why not start sharing photos of your products propped and displayed in your product packaging?!
It is a really great way of styling your product photos, as it holds everything in place!
How packaging pictures can help your business grow:
Firstly, it shows your prospective customers (and your competitors) just how busy you are, and how many people have seen the advantages of buying with you!

It gives your customers a snapshot of just how much effort you put into packaging their orders, and how appreciated your customers are.

It also gives your customers a taste of what they are about to receive in the post.

You are providing a snapshot of just how professional you are.

It is a really great way of styling your product photos, as it holds everything in place, (

think a neatly presented selection of baked treats in a cupcake box, rather than one or two on their own)

This is a photograph which no doubt will contain further examples of your logo and a chance for you to share more of your branding online.
Imagine your photographs popping up online of you packaging your order. You pop your products in, add custom stickers and your logo to the box, now you place your 'Thank you' note inside, along with some other branded goods… Now imagine your followers sharing your images. It is your logo, along with all of the products you have spent so much time and attention to make, now being shared online to more potential customers.
We love supporting small businesses, so here is how The Bag 'N' Box Man can help you.
We made a promise at the beginning of 2021 to be more social and that is exactly what we are doing! See Get social.
When you share your packaging pictures online and mention us in the caption just like the example below, not only does it mean the world to us, but it helps us as a small business ourselves!
In return, if your picture shows our packaging we will GLADLY share it for you, as a small business spotlight or a style inspiration picture.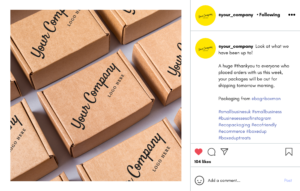 Please remember to like and follow us on Instagram https://www.instagram.com/bagnboxman/
And keep mentioning us in your Pictures
---