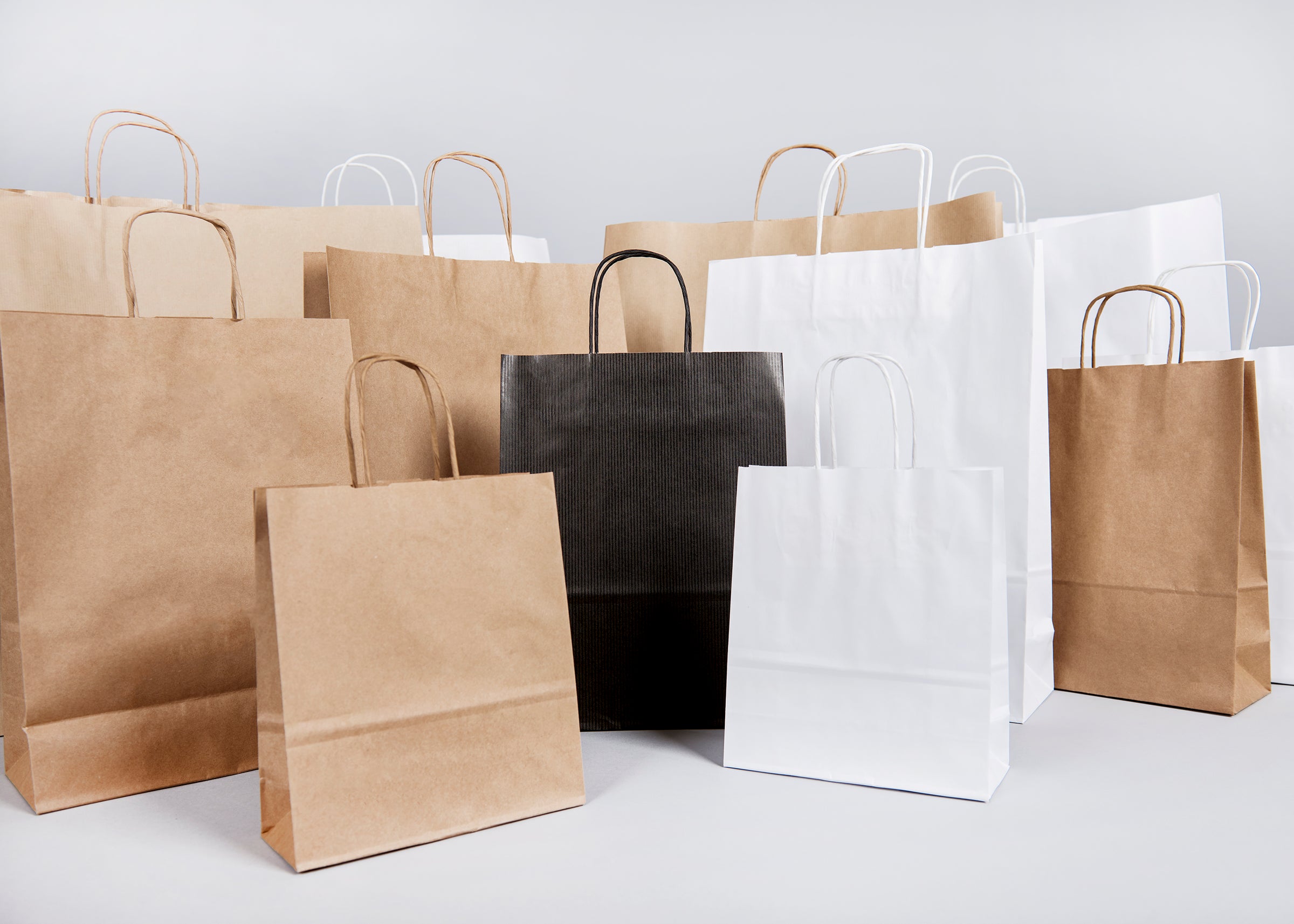 Eco-friendly paper carrier bags with handles, for wholesale and retail.

Bags are some of the largest environmental concerns for small businesses. Plastic carrier bags, while versatile, are not traditionally recycled and usually end up in landfills. There are plenty of alternatives you can use to reduce the impact your business may have on the environment, including reusable woven bags and paper carrier bags for lighter items and takeouts. If you're looking for an aesthetically pleasing and customisable choice of bags for your shop, browse our range of paper carrier bags, wholesale and perfect for small businesses. Paper bags can be recycled or disposed of safely with no negative impact on the environment.
Sustainable & eco-friendly bags, recyclable & responsibly sourced
If you're concerned about your business's carbon footprint, our white & brown paper carrier bags are manufactured with eco-friendly methods that have no negative impact on the environment. Our kraft paper bags are made from timber pulp sourced from Scandinavian and Northern European forests that have higher planting than harvesting rates. This ensures that the woodland continues to grow at a healthy rate, while also providing the paper we use to create our bags.
Our white kraft paper is coloured via an entirely bleach-free process involving oxygen and hydrogen peroxide. This process releases no pollutants into the environment, making our white carrier bags completely eco-friendly! Our wholesale paper bags are also recyclable, great for businesses and shops with an emphasis on sustainability.
Turquoise & black paper bags for aesthetic packaging options
If kraft white and brown paper bags don't suit your shop, we also offer turquoise and black paper bags to match the aesthetic of your products or just to spice up your packaging. Send your customers home with tasteful carrier bags to match the hard work and care put into your products.
Twisted handles & gussets for carrying heavier items
Our paper bags with handles are complete with gussets to strengthen the bag and keep your products safe on the way home. These bags are sturdy and are reinforced to carry heavier products, eliminating the fear of the bags breaking in transit. We also offer twisted handles to provide extra support. Twisted paper spreads pressure evenly across the handles, and the twisting process ensures that the paper is thick and difficult to break.