In the news this past week there has been an awful lot of talk about carrier bags, for all the right reasons. So we are going to be topical and on-trend and show you what we have to offer!
Read on or click the button below to skip straight to our full range.
Printed Polythene Carrier Bags – bio-degradable!
All bags are produced with Photo-Bio Degradable Polythene as standard. This product has a 12 month shelf life. A great environmentally friendlier alternative to plastic bags!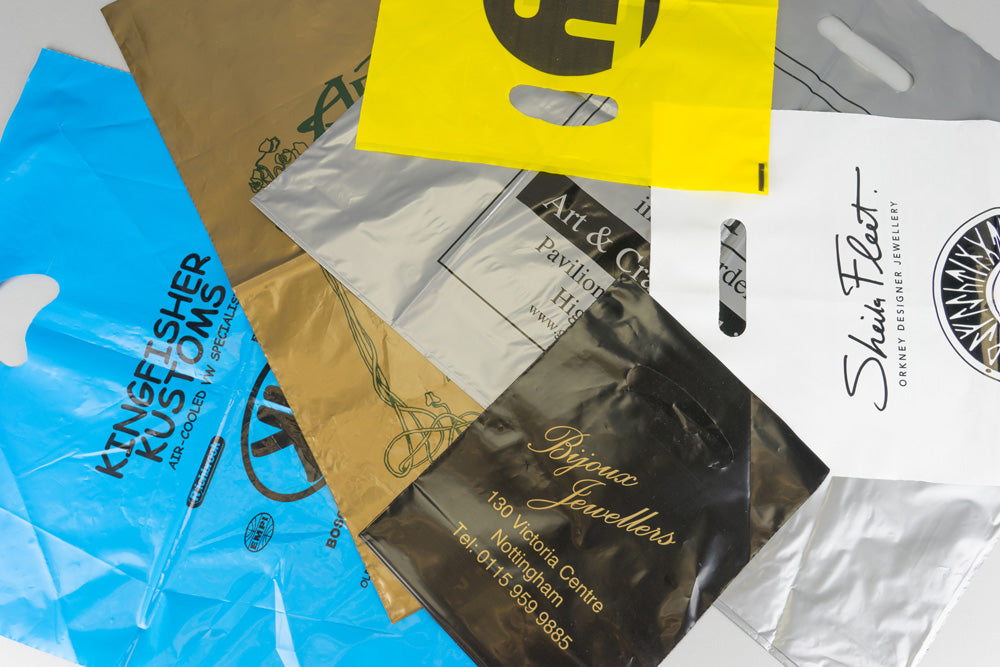 Custom Printed Polythene Carrier Bags
Biodegradable Carrier Bags
These are excellent quality, will store for approximately 24 months (under normal conditions) before starting to degrade, a good bag at an affordable price.

Paper Carrier Bags
We have two types of paper carrier bags, with flat or twisted handles. Both made of renewable sources (trees!) so they are the obvious, environmentally friendlier choice. We can even print on paper carrier bags!

American Style Grocery Bags
The Americans have been doing this for years! Simple, effective, low cost and environmentally friendly. What is not to like about these sacks?

Canvas and Jute Carrier Bags
A range of re-useable cotton and jute carrier bags.

Black and Gold Striped Carrier Bags
Perfect as a budget friendly-solution for adding a touch of class to your business, these black and gold striped carrier bags look and feel premium, but are not priced premium.

Gloss Laminated Carrier Bags
Luxury glossy carrier bags.

Cheap Carrier Bags
Our carrier bag bargains section

---