As Christmas is fast approaching we thought we had better let you know when we will be in!
As is the Bag ' n' Box Man annual tradition, the office will be closed the week of Christmas, for some much needed recuperation time for the team. We have put together a list of important dates for your diary: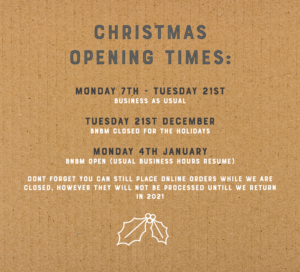 If you require any packaging before Christmas we strongly recommend placing your order with us before Monday 14th December to avoid disappointment. Please also note, that although the team will be away from the office our online shop will still be open for orders, they will however be processed upon our return on January 4th.
---