Free packaging advice for small businesses
Did you know that we also offer free packaging advice for small businesses?
We wouldn't blame you if you didn't, we very rarely mention it yet we do so much of it; shame on us!
Here at The Bag 'n' Box Man we have a wealth of experience among the team and are keen to help wherever we can! From start-ups, new businesses, re-branding of products or companies, to new product launches, we are here to offer free packaging advice for all small businesses. (And let's face it, if you are a larger business who needs our help we are here of course for you too)
Regardless of your industry, we are here and ready to walk you through the ranges, discuss printing and custom designs, or to help with ideas and tips on how to customise your packaging regardless of budget.
We are here for any packaging insights or advice, whether you are a new company or simply looking to refresh your existing packaging, a one man band, a seller on Etsy, Folksy or nuMonday, or perhaps buying on behalf of a larger organisation. No matter if it is bespoke, individual product packaging, food safe takeaway or presentation packaging, we do it all!
Ultimately, we are here to make you look good, and also to help you deliver the personal touches to help boost brand awareness for your company, not to mention a memorable experience for your customers!
To pick our brains, simply fill out the form at the bottom of the page with as much detail as possible, and we will get in touch with you as soon as we can to arrange a chat.
Here are just a few recent images from our customers showing their creative packaging designs, we are thrilled to be able to work with these incredibly talented people and assist with advice and custom printing where we can. We are working on a bigger portfolio of custom printed packaging to suit all budgets, so be sure to cheek back soon.
We look forward to hearing from you!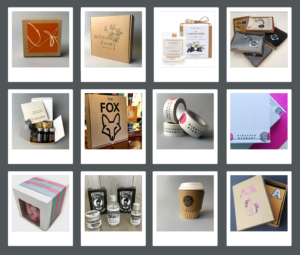 ---