Make Your Own Christmas Crackers
This year, there has been much talk about the unnecessary waste that traditional Christmas crackers leave behind for just a few seconds of fun.
Well, we have just made our own Christmas crackers here at The Bag N Box Man, and we can't wait to use them for our staff meal at the end of the year! And the best thing is, they were made out of recycled, recyclable, pre-loved, home-made, and charity items!
So, don't ban christmas crackers, make your own. And by doing so, you will help save the planet and support local businesses and charities. Just follow our guide.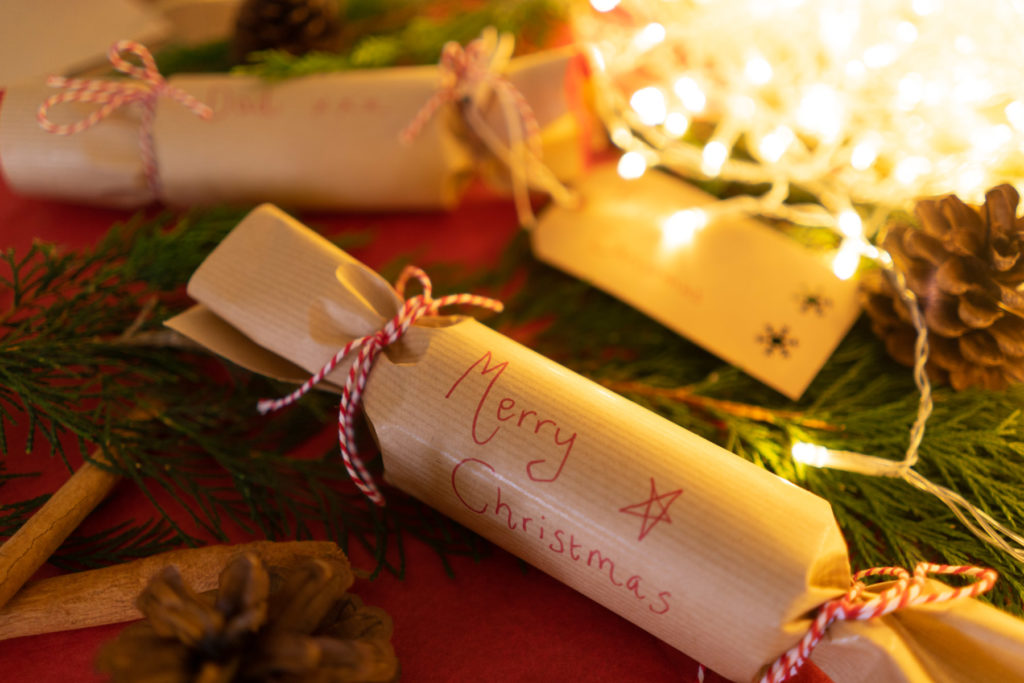 Ingredients
Toys and gifts (from a charity shop, car boot, or from your own collection)
Treats, sweets, or snacks
Paper – brown wrapping paper is perfect
String, Raffia, or Luggage Tags
Paint, Rubber Stamps, Potatoes, or similar
Scissors or a craft knife, if you have one
What you need
Toys & Gifts
Throughout the year we have been collecting interesting, unusual, and sometimes comical items from various places. Some were free, some we bought from a car boot sale, or local charity shops. All items need to fit into a toilet roll center. We had great fun doing this!
You could also make your own treats, such as cookies, chocolates, or buy some from your local independent shop or market to put into the crackers. You'll want to put them into a food-safe bag though, for obvious reasons.
Paper
You can use last year's wrapping paper for this, or some brown wrapping paper. Brown wrapping paper is ideal as it is completely recyclable and also looks wonderful and rustic. You could even paint it with splashes and dribbles of paint, or print your own with potatoes, rubber stamps, or even lino cuts.
You could even make your own design in advance, see our guide on "how to make your own Christmas wrapping paper".
String
You'll need to tie the ends to hold everything together, and even by using plain string it will still look stylish, you can even use coloured paper raffia and luggage tags and draw on them. Your crackers will look unique, personal, and amazing!
How To Make Your Own Christmas Crackers
Our photos go through every step, and the whole process only takes a few short minutes. Please share your results with us, we'd love to see what you came up with!
Step 1
Get your paper ready! You will need roughly A4 sized pieces of paper.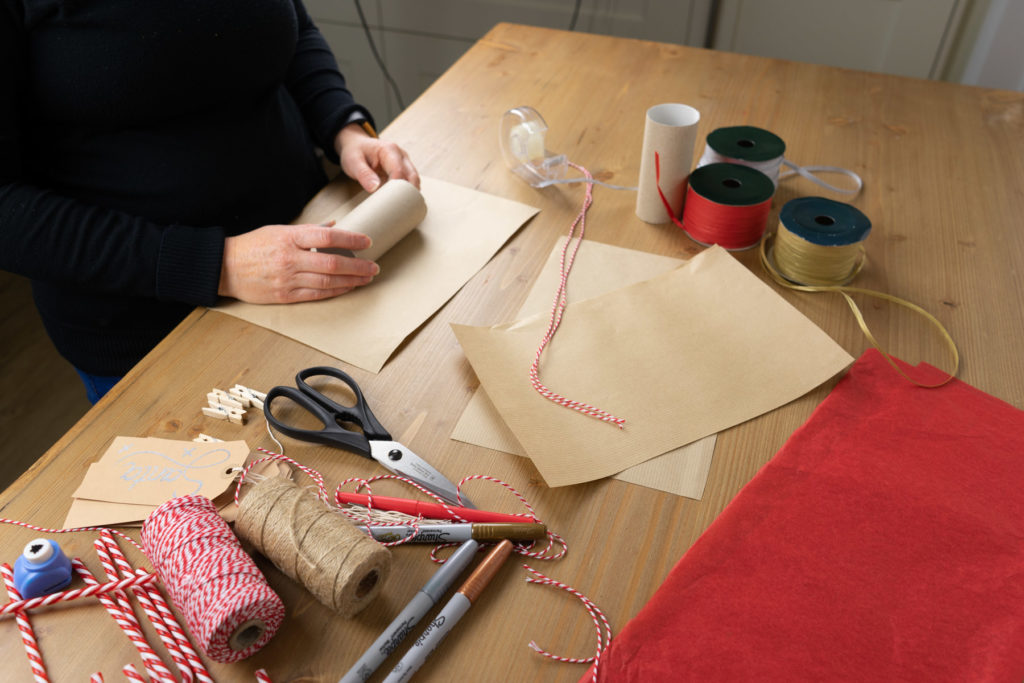 Step 2
Place your Christmas Cracker Insert in the middle of the paper, with the longest side of the paper and the tube facing you.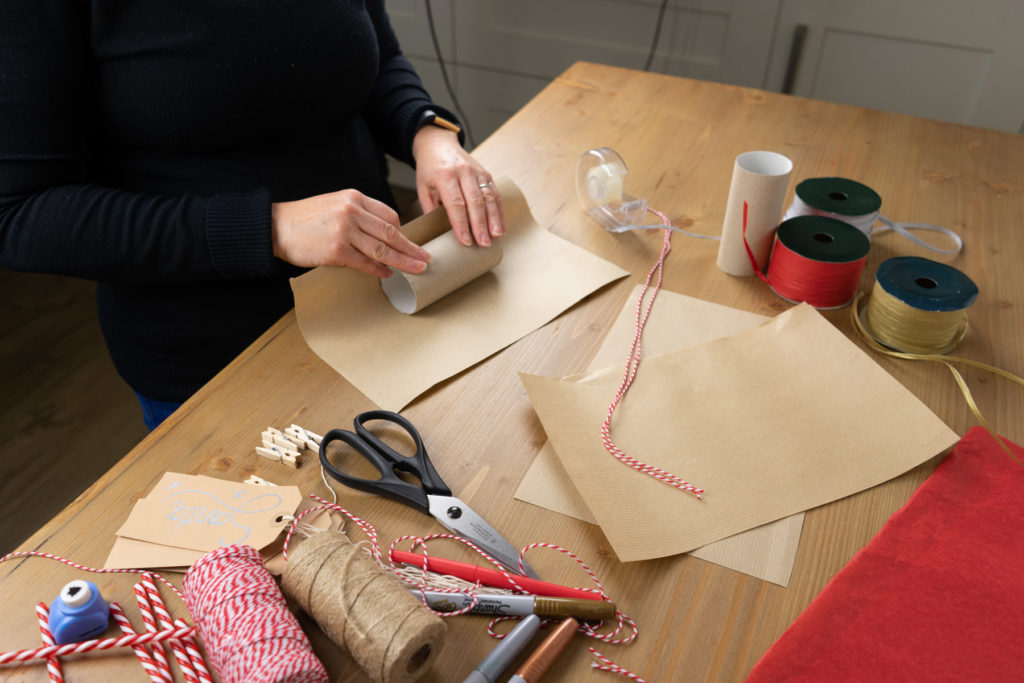 Step 3
With your chosen gift inside the insert, wrap the paper around the tube.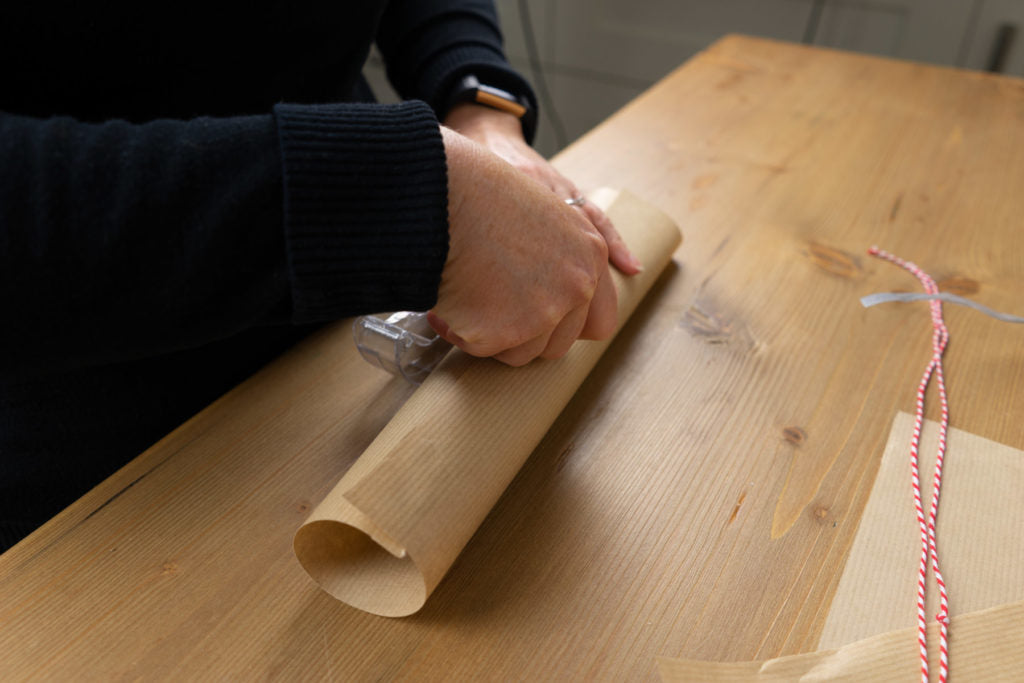 Tip
You may need a small piece of sticky tape to hold the tube in place and to secure the paper after rolling it around the tube.
Step 4
Wrap some string loosely around the ends, just after where the tube finishes. you'll want to tie the string tightly so that your gift does not fall out, so allow some room for the paper to crease.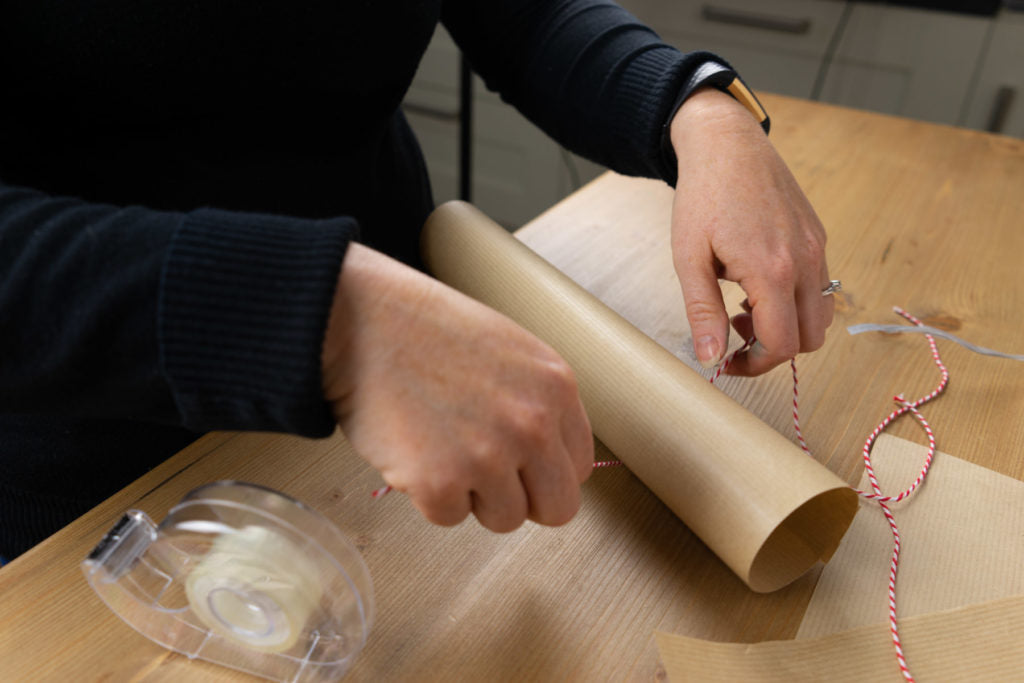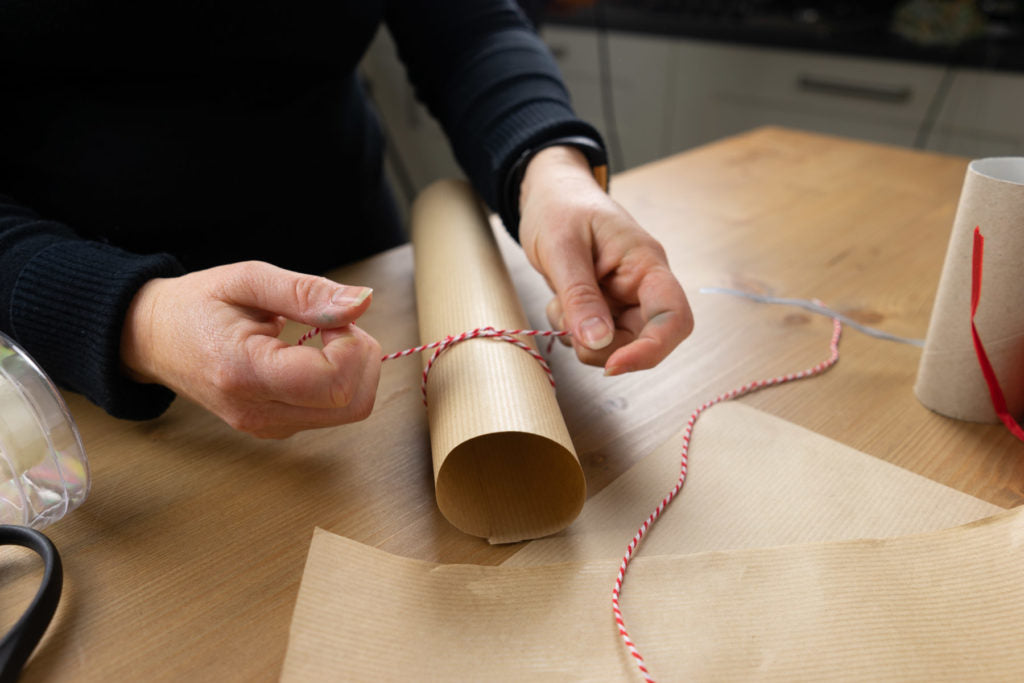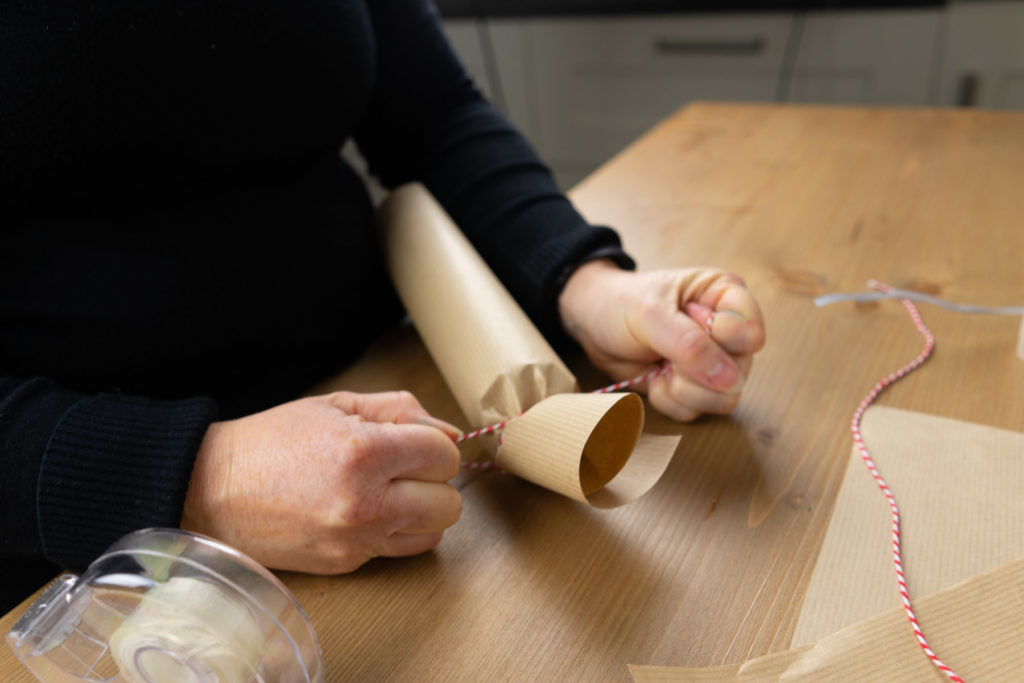 Do the same at both ends.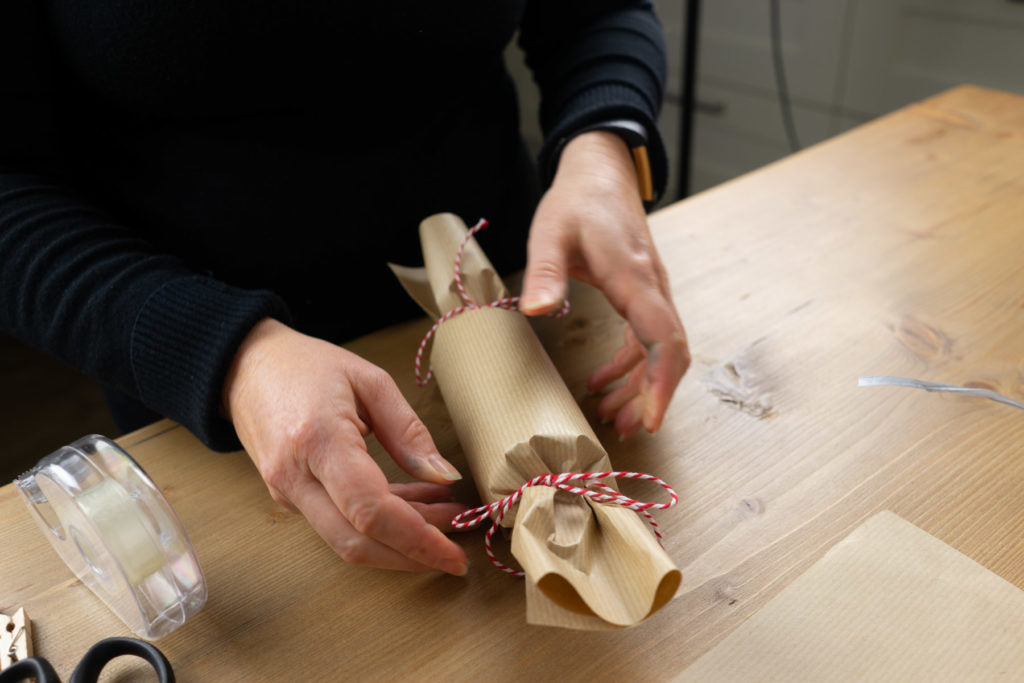 Step 5
Decorate your crackers! Use a rubber stamp, write a message, or add a lovely brown luggage tag.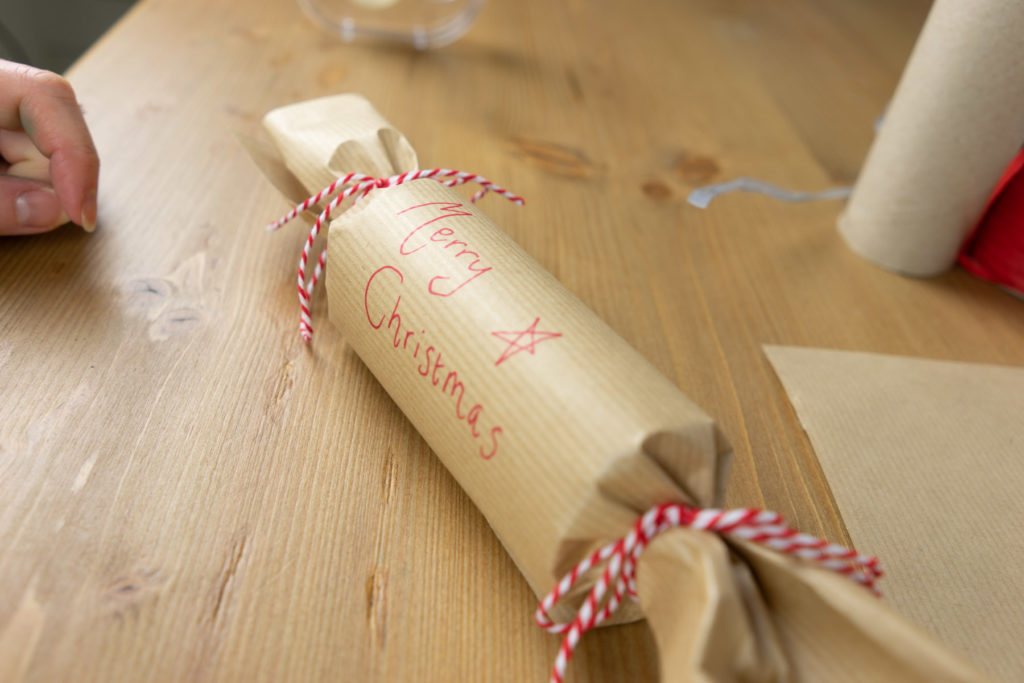 And hey presto: a fully recyclable, plastic-free Christmas Cracker. And probably cheaper and far better than shop bought!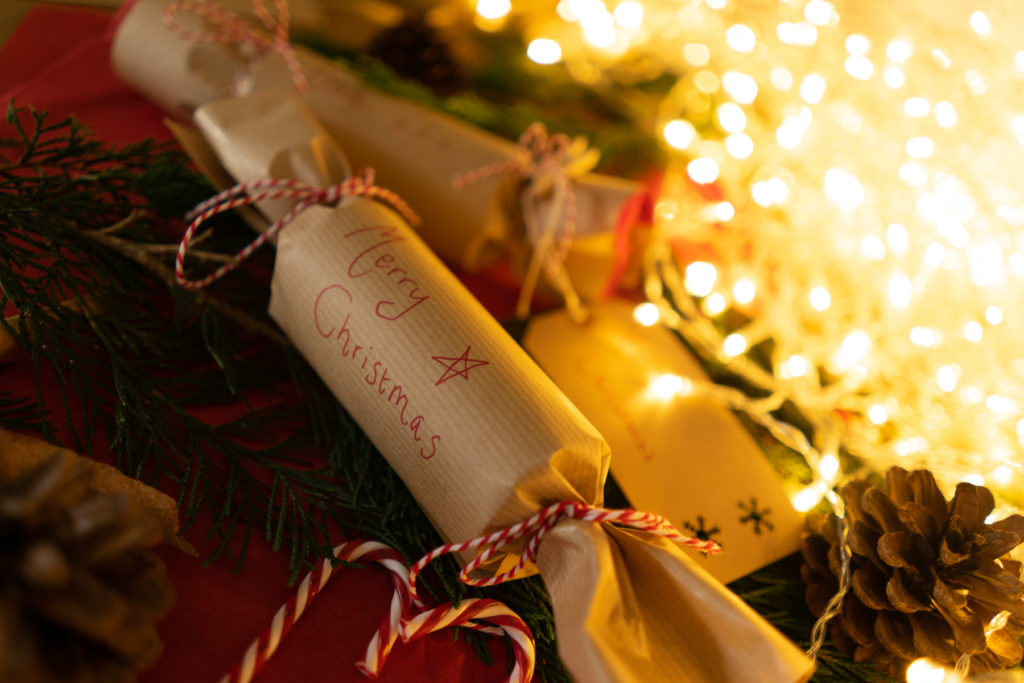 Your shopping List:
---