Merry Christmas from the Team
Wowee, what a year it has been.
We just wanted to take this opportunity to thank all of our wonderful customers, trusted suppliers and couriers.
We know we have told you before, but we will say it again, as a small family-owned business we appreciate each and every one of you. 2020 has been a trying year for us all, and while businesses were being affected worldwide, our team donned their 'key worker badges' and worked their little socks off to ensure we were there to support all of the businesses we work with. The team have worked around the clock to ensure that our online store was more accessible than ever before, that local deliveries were uninterrupted and more frequent, that stock was replenished and updated , and that we remained reliable for our customers.
We have found our supply of food safe and postage packaging in particular have surged, as restaurants and store owners have had to adapt and enter the world of takeaway deliveries and online selling. As such we have done our upmost to keep up with demand and helped many businesses to adapt and carry on.
So while our team of elves take a well-earned break away from the office to spend time with loved ones over the holidays, we just want to wish you the all the best. We hope that wherever you go and whoever you spend it with you stay safe, happy and healthy.
From us to you, have a wonderful Christmas and a happy new year!
From the entire team @Bagnboxman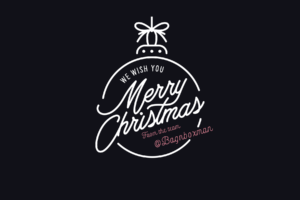 We are now closed for the holidays and will return on Monday 4th January.
Our online store will still be open, however orders will be processed after we return.
---