The Ten Best Products For Bakers and Cake Makers
We supply many bakeries, cafés, restaurants, pattisseries, independants and home-based cake makers and bakers with many products aimed at the hospitality and catering sector. Our prices are competitive and there is no minimum order!
Quite often we have people who are not cake makers or even in the catering profession add some of the items we mention below on to their order, so that they can benefit from wholesale prices! The product is better and lasts longer too. Our tin foil, baking parchment and cling films are regular add-ons, for example.
So, here we have the ten best products that we stock and supply to bakers and cake makers, in no particular order:
The best products for cake makers and bakers:
(1) Cake Boxes
We have over 24 different sizes and styles to choose from, with or without windows available in some sizes, and our cake boxes are superb for storing and displaying your finished product. Below is just a small sample of what we do.
(2) Cupcake and Muffin Boxes
For cupcakes and muffins we have some great boxes, and they too are available in various colours and styles.
Buy cupcake and muffin boxes online
(3) Clear Gift Boxes
Our clear boxes come in 22 different shapes and sizes – we even have a clear pyramid box! These boxes may not be food safe – but using an additional barrier such as a food safe bag gives you the option to use the attractive, crystal clear gift boxes in a retail environment.
(4) Clear Round Boxes
Our Clear Round Boxes have been extremely popular, as many cake makers on instagram simply cannot get enough of them! Here are some photos of our clear round boxes in use.
Thank you to Tilly Flo's Cakes and Three Bears Bakery for the use of their photos.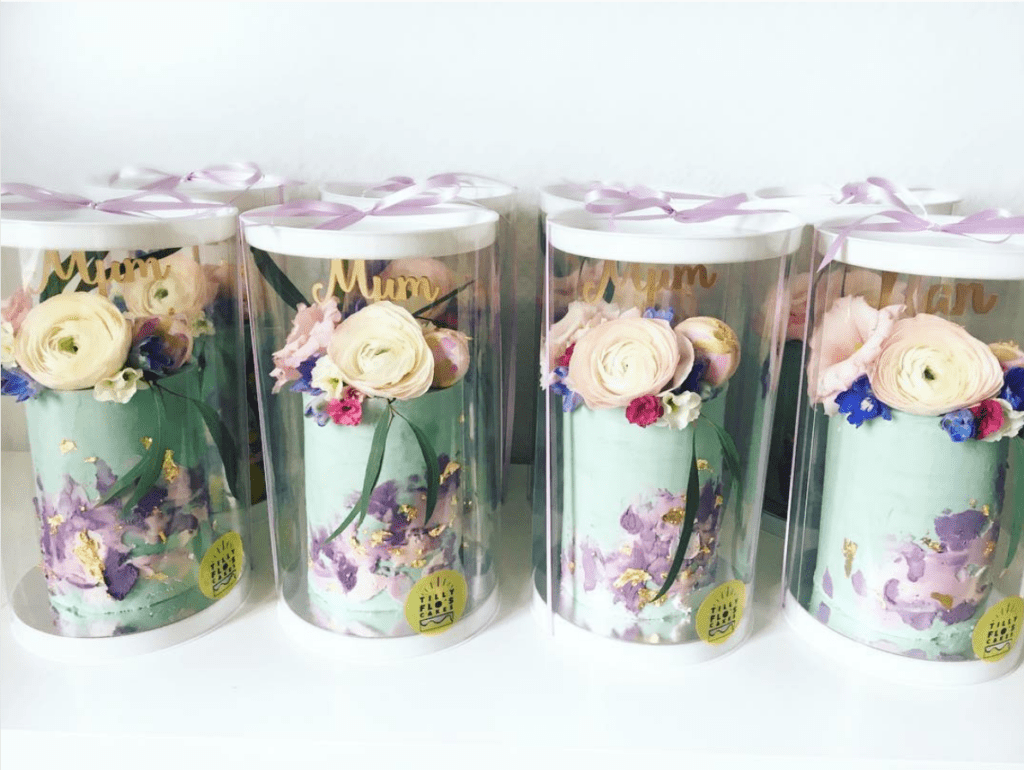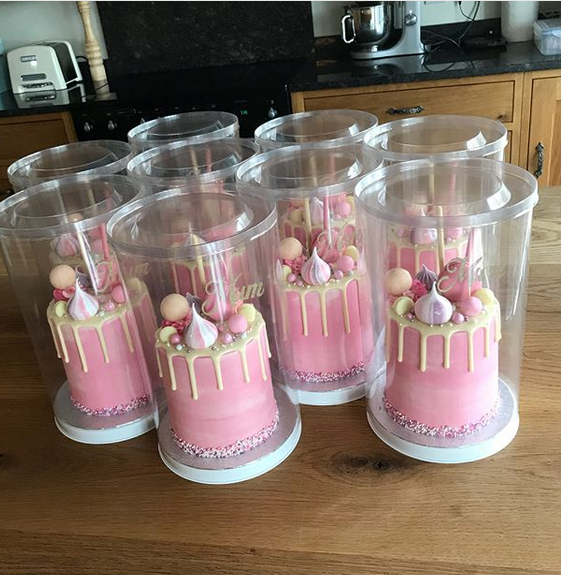 (5) Pizza Boxes
Many of our customers make tray-bakes, which they sell at fairs or online and then send them by post. Corrugated boxes are the best solution to this, and our pizza boxes are very popular with bakers! We can even print onto pizza boxes for you.
(6) Tin Foil, Baking Parchment and Cling Film
Buy Tin Foil, Baking Parchment and Cling Film online
(7) Cake Boards & Drums
Big thick cake drums or smaller, thinner cake board. From 6 inches to 12 inches.
Buy Cake Boards and Cake Drums online
(8) Disposable Baking Tray and Lid
A silicone baking tray and lid that is oven and freezer proof!
(9) Food Safe Bags
We have many different food safe bags – from polypropylene to cellophane to paper and lots in between. Below we show you just a small sample, our clear food bags, clear bags with a square base, cone bags and resealable bags.
(10) Janitorial Supplies
So many to choose from! We have latex gloves, blue centre-feed rolls, environmentally friendly cleaning chemicals, paper towels and counter wrapping sheets – and much more!
Buy Catering and Janitorial Supplies online
---