Why is packaging so important?
A question we get asked a lot is 'Why is packaging so important?'
Packaging is just packaging, right? After all it is the product that really matters.
As it happens, product packaging plays a more important role in consumer decision making than you might initially think. A product's packaging communicates many different things, from what the product is or can do, to your company's values. Many marketers believe that the packaging is as important as the product itself and use it as a crucial marketing and communication tool for their business.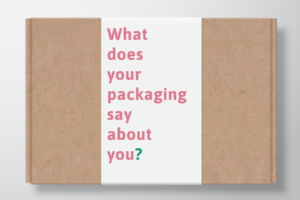 It's time to stand out
With thousands of products on the market calling for potential customer's attention it is important to differentiate your brand from the others. Whether your product is visible in store or online only, one-third of a consumer's decision making is based on product packaging alone, so it is important to stand out.
Use your packaging as a marketing tool
Your product's packaging can be used as a very helpful marketing tool and is ideal for promoting brand awareness. Let's not forget that it is in direct placement of your target audiences who are already looking to purchase when displayed on store shelves. Selecting packaging with your logo front and centre will help your customers discover your product, as well as help them to recognise and remember it for a future shopping trip. It is worth considering the message your packaging is delivering about the product and your business, can it be improved?
Understanding the layers of packaging
Another thing to consider is the purpose of your packaging. Is it purely for storage and transporting, or display purposes also?
Your product is more than the outside shell the customer may see in store. Product packaging is often more complex involving 3 layers. The outer packaging is the first thing people tend to think of, as it is the first layer the consumer will see, and often all effort and energy will be placed in refining this part of the packaging process.
It is equally important to think about the inner packaging, as this can be a very important and useful way to communicate valuable information. This may be the layer which holds your product in place, as no one wants to open their purchases and find the products scattered within. However this area may also be used for safety information, instructions or other information which wouldn't be appropriate to place on the outer packaging.
Lastly, labels, tags, gift bags, tissue and other finishing touches on your product to make up the final packaging. It's these finer details which can make all the difference to the ultimate unboxing experience for your customer.
Create an unboxing experience to remember
An unboxing experience is an experience that a customer feels from the moment they receive your product, to unwrapping the packaging, and the moment they use it for the first time. An unboxing experience helps build a positive first impression with your customer, to leave them thinking 'wow, I got a lot more than I expected'. Particularly when the customer has viewed the product online, it can quite often be the quality and the detail in the packaging which has surpassed their expectations.
Custom Packaging
Custom packaging is at the forefront of your unboxing experience. If you're of the mind that 'it's too expensive', consider what happens if a customer unboxing your product is a creator of one of the 72,000,000+ unboxing videos on YouTube. An ordinary cardboard box, with no personalisation, is not going to make an excellent first impression. A simple colour mailer box with a logo is a great place to start, and our team certainly know their stuff. Why not get in touch to discuss pricing and requirements, you may be surprised to find the cost isn't as high as you previously imagined.
With this in mind, for smaller businesses and budgets, there are a lot of effective ways of customising your product packaging with simple hacks and styling tricks. It is important to ensure that your customers still receives an unboxing experience to remember and talk about, it is these positive experiences which lead to recommendations, social media shares and repeat sales.
You are not alone, we can help!
For help and advice on how best to package your products, regardless of budget or industry, get in touch with the team today. We've worked with a wide variety of clients to solve their unique and complex packaging needs. From design and function to assembly and fulfilment. Between us we have the expertise to get your product to the shelves and into your customer's hands.
Give the team a call on 01295 788522 or fill out the form below with as much detail as possible, and we will get in touch with you as soon as we can to arrange a chat.
---