World Earth Day: Eco-Friendly Packaging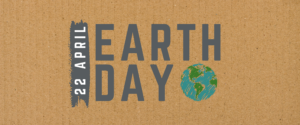 As we approach World Earth Day, it seems a fitting time to ask the question…
How environmentally friendly is your packaging?
As consumers across the world are becoming increasingly eco-aware, there is a higher expectation now that the packaging on goods purchased should provide clear information on the materials used, this includes recycled content, recyclability and degradability of the packaging once it has fulfilled its intended purpose. It is our opinion that opting for ecologically friendly and sustainable packaging is not just good for the planet but can benefit your business also.
What makes packaging material eco -friendly?
Sustainability is key here, made from renewable materials from responsibly managed sources, maintained rainforests for example. Recyclability is important, allowing products to be broken down and used as an ingredient of a new material, and of course when the product itself is made from recycled materials. Other important factors are sustainable manufacturing, factories using low energy or using renewable energy sources, and local fabrication, reducing transit costs and emissions.
Why is sustainable packaging so important?
Sustainable packaging is important because it reduces the ecological footprint of every stage in the product's life-cycle. It allows the producer and the consumer to reduce their environmental impact and footprint.
How can switching to Eco-friendly packaging help my business?
Well, as eco-friendly packaging is somewhat of a hot topic it is important to demonstrate how you as a business are doing your bit. Your product packaging is a great way to make a first impression and tell your customers more about you and your company values. If your ethos is for a more sustainable future then incorporating this in the decision making around your product packaging is an absolute must.
How does this affect the packaging industry?
The packaging industry has been highlighted within the sustainability focus, not because it is the biggest source of environmental problems but from a consumer's perspective it is likely the most visible.
Why does the Bag 'N' Box Man care?
As a packaging company we are quite aware that although we do not manufacture any products ourselves, we have the potential to contribute to a lot of environmental damage.
There are many things we have done and continue to do over the years to help minimise this;
✅ Did you know we recycle packaging wherever possible, we talk about an unboxing experience for your customers quite often, not forgetting that we are not giving our customers an unforgettable unboxing experience of their own. Your orders will be shipped out in recycled packaging we recover, or collect from local companies, thus saving them from landfill.
✅ We carefully source our products from suppliers who have credentials which tick all of our boxes. Our suppliers must be able to prove that their products meet certain criteria for us to supply their packaging materials
✅ We also source from as locally as possible to reduce on air emissions and our carbon footprint
✅ We are working on an entire marketing pack of eco-messaging for you, our valued customers, to help when talking about your own packaging choices. Talking about your packaging, both product packaging and shipping materials, can be an important part of portraying your company values, and your eco-stance to your own customers. We want to be able to provide you with the literature and documentation to share which tells your customers how sustainably sourced packaging is important to you too, and that's why you have chosen The Bag 'N' Box Man as your supplier.
For more information about The bag 'N Box Man's Eco-stance, you can take a look at our Environmental Policy
We have a few other things we are working on around this and hoped we would have them ready for now (you know how deadlines can be) but rest assured, this is of utmost importance to us as a company and we can't wait to let you know more about it.
To be the first to hear about our continued Eco-efforts and to receive your marketing packs please drop your details in the form below and we will add you to our mailing list:
---